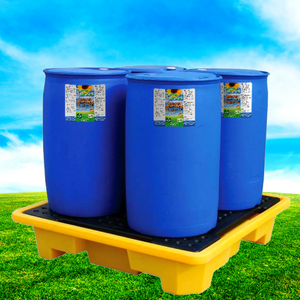 Organic Water Extracted Humic Acid® X75 - 220 Gallons
1 gallon of Organic Water Extracted Humic Acid® X75 is enough to cover approximately 9 acres.
Product Listed By Organic Materials Review Institute (OMRI). 
GTIN: 00858749007633
For larger orders, please call us at: 805-277-7758
Humic Acid can be applied directly to the soil or as a foliar spray. When applying as a foliar spray, keep in mind that the plants will absorb the fertilizer at a much faster rate than usual.
HERE ARE A FEW OF THE BENEFITS YOU CAN EXPECT WHEN ADDING ORGANIC WATER EXTRACTED HUMIC ACID® X75 TO YOUR LAWNS, PLANTS OR CROPS.
Higher yields with less fertilizer
Increases soil organic matter levels
Higher biological activity
Unlocks bound up nutrients
Regulates pH
Break down toxins in the soil
Higher BRIX levels
INSTRUCTIONS TO USE
Agitate before applying
Mix 1 gallon of Organic Water Extracted Humic Acid® X75 with at least 5 to 10 gallons of water or enough water to cover 9 acres. Alternatively, Humic Acid can be put in the irrigation system or in furrow.
Can be mixed with liquid fertilizer, herbicides etc
Use solution within 24 hours of mixing
CAUTIONS WHILE USING
Do not store as diluted mixture
Store in a cool, dark, and dry place
May be harmful if swallowed
Avoid contact with eyes, open cuts or sores
Keep out of reach of children
Wash hands after use
For general cleanup use pine oil based cleaners
General safety precautions related to liquid chemical for crop application as advised
To know more about Humic Acid uses & benefits consult our articles Humic Acid and Liquid Fertilizer.